Mutant Leader/es
This articles's name is conjectural.

An official name is yet to be given, and it may change at any time.
---
This article is about líder de un grupo de mutantes. For caníbal en el vídeo de introducción, see Cutscene Cannibal/es
---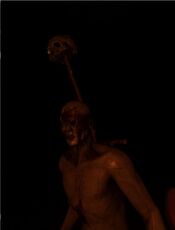 Los Líderes caníbales o mutantes líder difieren de los caníbales comunes en su aspecto. Suelen llevar decoraciones hechas con calaveras humanas y en muchas ocasiones se les puede ver vistiendo un colgante hecho con CD's o con una linterna improvisada en su cabeza. Hay tambien posibilidad de encontrar líderes con brazos cortados en su espalda o cuello. Se encargan de líderar las patrullas de caza, acompañados de dos o más caníbales comunes y parecen ser importantes para su tríbu.